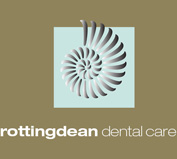 £
1 West Street, Rottingdean East Sussex , BN2 7HP
0127 330 3319
Rottingdean Dental Care
I have been a patient of Graham's for the past five years. He is a wonderful, caring dentist with great skill and has always made me feel confident about having any dental-treatments.I have nothing but praise for the staff.
The receptionists, practice manager and nurses I have seen have always been caring and efficient. I was recommended to the practice by a work colleague and have never regretted my decision.
Choosing the right dentist is really important and in my opinion you can't go wrong by choosing this practice.